Chief Investigator
Dr Erik Lundström
MD, PhD, Associate Professor Neurology, ESO Fellow
Department of Neuroscience, Neurology
Uppsala university
Akademiska sjukhuset, Ing 85, 3 tr
751 85 Uppsala, Sweden
Phone +46 (0)18 611 10 00 (switchboard)
Emailt: erik.lundstrom@neuro.uu.se

orcid.org/0000-0002-5313-9052
Trial Manager
Eva Isaksson
Research Nurse, PhD student
Karolinska Institutet
Dept of Medicine
Danderyd Hospital
182 88 Stockholm
Phone +46 (0)8 123 550 00 (switchboard)
Email: eva.isaksson@sll.se
Trial Manager Assistant
Nina Greilert
Research Nurse
Karolinska Institutet
Dept of Medicine
Danderyd Hospital
182 88 Stockholm
Phone +46 (0)8 123 550 00 (växel)
Fax: +46 (0)8 655 73 35
Email: nina.greilert@sll.se
Trial Statistician
Per Näsman
PhD, Associate Professor
Center for Safety Research
Royal Institute of Technology
TR 10A
100 44 Stockholm
Telefon: +46 8 790 75 30
E-post: per.nasman@abe.kth.se
Trial psychiatrist and anti-depressant pharmacological expert
Björn Mårtensson
MD, PhD
Karolinska Institutet
Department of Clinical Neurosciences
Psykiatri Nordväst (R5)
Karolinska University Hospital
171 76 Stockholm
Steering Committee
Professor Katharina Stibrant Sunnerhagen (chair)
Professor Per Wester
Professor Bo Norrving
Professor Håkan Wallén
Senior Professor Jörgen Borg
PhD Björn Mårtensson
Associate Professor/statistician Per Näsman,
Chief Investigator/Associate Professor Erik Lundström,
Trial Manager Eva Isaksson.
The co-chief investigators from FOCUS and AFFINITY were affiliated to the Steering Committee
We did not have any patient involvement in the steering committee nor when we wrote the protocol.
Sponsor
Karolinska Institutet
Dept of Clinical Sciences
Danderyd Hospital
182 88 Stockholm
Representant for sponsor
Dr Erik Lundström, MD, PhD
Associate Professor of Neurology at Karolinska Institutet
Email at Karolinska Institutet: erik.lundstrom@ki.se
Electronic Case Report Forma ( e-CRF) – EFFECTS uses OpenClinica
Krister Kristianson
Chief Technical Officer at EDC Scandinavia
Email: krister.kristianson@edcscandinavia.com
---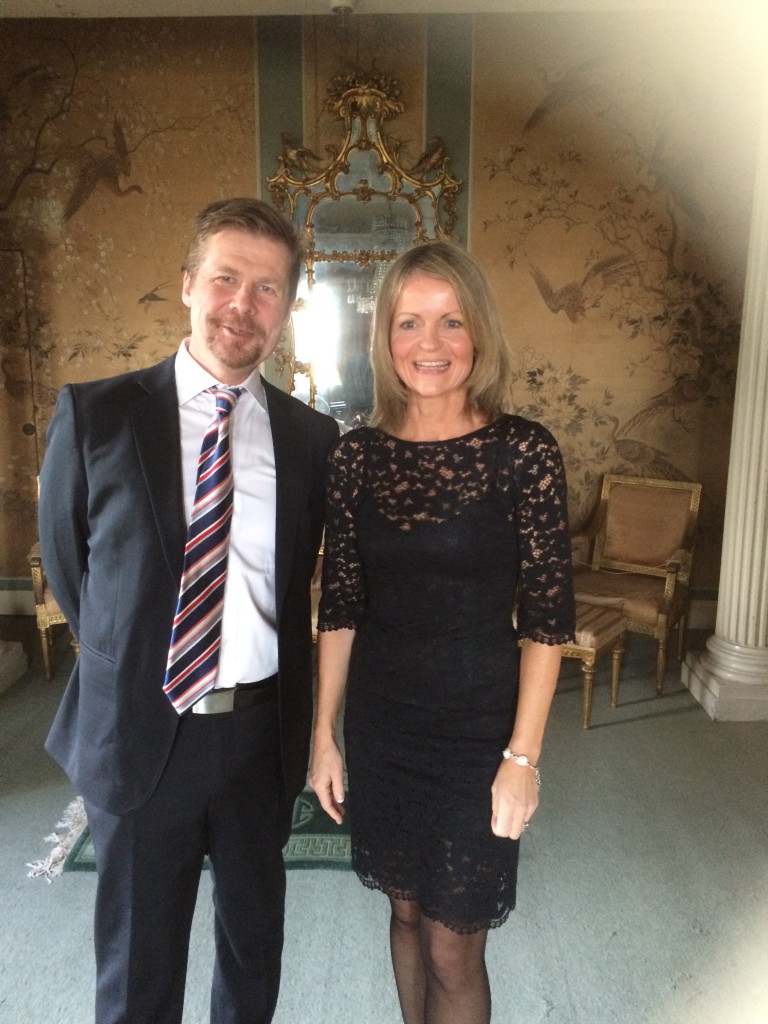 Chief Investigator Erik Lundström och Trial Manager Eva Isaksson. April 2015. Foto: Privat.