This is the official homepage for EFFECTS. EFFECTS stands for Efficacy oF Fluoxetine – a randomisEd Controlled Trial in Stroke. EudraCT-Number for EFFECTS is 2011-006130-16
Chief Investigator is Erik Lundström (MD, PhD, Senior Consultant in Neurology, Karolinska University Hospital, and associate Professor at Neurology, Karolinska Institutet, Sweden). Trial manager is RN Eva Isaksson, and Trial Manager Assistent is Nina Greilert.
An update of the Inclusion as of 03/08/2017. Total number included: 787.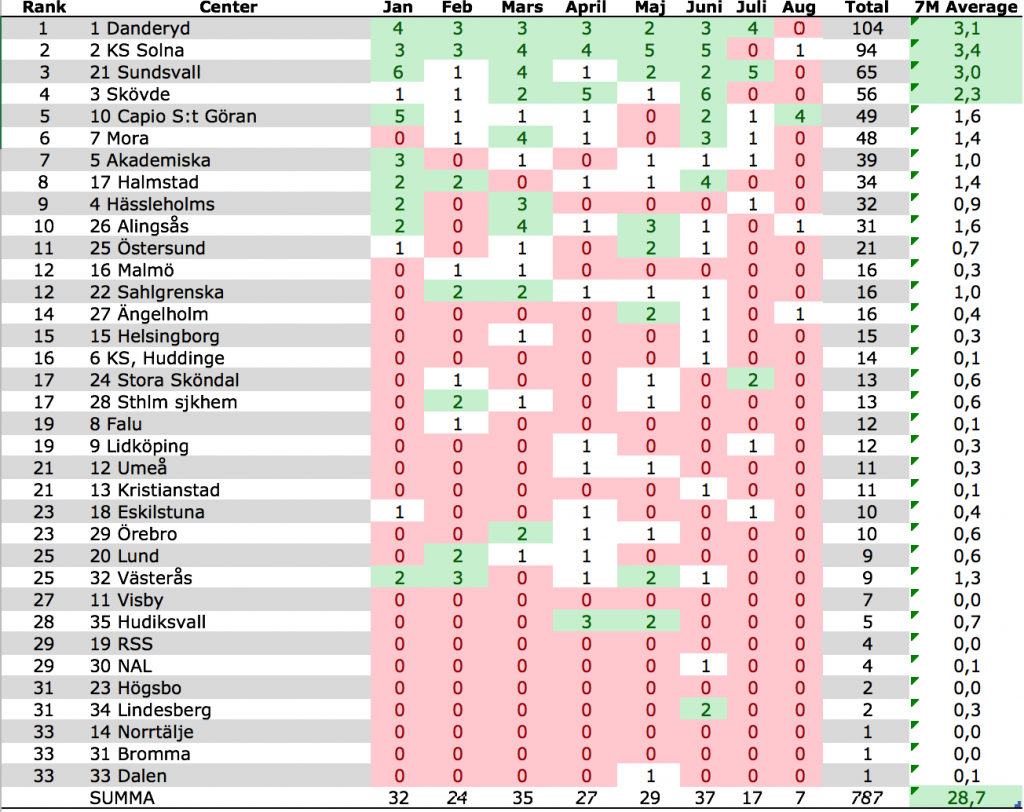 ---
Protocol and Ethics
| | |
| --- | --- |
| Latest version (v 4.8) of the research plan. | Click here. |
| Ethical approval (Dnr: 2013/1265-31/2. Date: 03/09/2013) | Click here. |
| Amendment 1 (Date: 15/04/2015) | Click here. |
| Amendment 2 (Dnr: 2015/991-32. Date: 10/06/2015) | Click here. |
| Amendment 3 (Dnr: 2015/2056-32). Date 30/11/2015) | Click here. |
| Amendment 4 (Dnr: 2016/1191-32). Date 14/06/2016) | Click here. |
| Amendment 5 (Dnr: 2016/2531-32). Date 04/01/2017) | Click here. |
| Version history of the protocol (in Swedish) | Click here. |
Approval from the Medical Product Agency, Sweden
Approval date 2014-08-08, with (Diarienummer 5.1-2014-43006).
Registered at ISRCTN och Clinicaltrials.gov
EFFECTS is registered at  ISRCTN (ISRCTN13020412) and at Clinicaltrials.gov (NCT02683213).
Data Management Plan
Data Management Plan, click here.
Statistical Analysis Plan (SAP)
EFFECTS Bibliography
Published full papers in peer-reviewed journals
Mead G, Hackett ML, Lundström E, Murray V, Hankey GJ, Dennis M. The FOCUS,
AFFINITY and EFFECTS trials studying the effect(s) of fluoxetine in patients with
a recent stroke: a study protocol for three multicentre randomised controlled
trials. Trials. 2015 Aug 20;16:369. doi: 10.1186/s13063-015-0864-1. PubMed PMID:
26289352; PubMed Central PMCID: PMC4545865. An article about the protocol for FOCUS, EFFCTS och AFFINITY in Trials, click here.
Papers under review
A statistical analysis plan for all three studies is currently in submitted and under review.
Correspondence since 2013
Mead GE, Dennis M, Lundström E, Murray V, Hackett M, Hankey GJ. Letter by Mead
et al regarding article, "Selective serotonin reuptake inhibitors for stroke:
more trials are needed". Stroke. 2013 Apr;44(4):e40-1. doi:
10.1161/STROKEAHA.112.681130. Epub 2013 Jan 22. PubMed PMID: 23339962
Editorials and commentaries on EFFECTS since 2013
Abstracts published since 2013
Publication plan (preliminary)
An Update of EFFECTS (planned after Last Patient In, estimated 31/07/2019).
The MAP EFFECTS study. This is an exploratory study of neural mechanisms of fluoxetine mediated motor, cognitive, and language recovery after stroke. We aiming to do a Trial Within a Study (TWIST), using the EFFECTS as the mother study.
---
---
SUMMERY
EFFECTS is an academic initiated, investigated led multicentre, parallel group, randomised, placebo-controlled trial of fluoxetine for stroke recovery. We are testing the following hypothesis: Does routine administration of fluoxetine 20mg once daily in the 6 months after an acute stroke improves the patient's functional outcome
What is unique with EFFECTS
We study a new mechanism, selective serotonin re-uptake inhibitors (SSRI), for stroke recovery. Our hypothesis: Does routine administration of fluoxetine 20mg once daily in the 6 months after an acute stroke improves the patient's functional outcome.
An academic initiated, investigated led, randomised controlled study.
A collaboration with FOCUS and AFFINITY, two other international, investigator led studies, with the same inclusion and exclusion criteria. A meta analysis of individual patient data is planned.
It has a pragmatic design, that is we investigate if the interventions work in normal practice, with less selected patients, a flexibly intervention applied as it would in normal practice, and finally, a outcomes that are relevant to patients and society.
The study includes both ischemic and haemorrhagic stroke.
Fluoxetine is inexpensive (only 30 EURO for 6 months' treatment), simple-to-administer, and generally well tolerated, and f it proves to work it can be implemented fast in the health care system
We aim to include 1,500 patients in Sweden, if we succeed, EFFECTS will be the largest randomised controlled stroke study in Sweden ever conducted.
---
Background
Each year, stroke affects 16 million people for the first time. About 50 % of survivors will have long-term residual disability. One promising intervention is fluoxetine, a selective serotonin reuptake inhibitor (SSRI). SSRIs have been used in clinical practice since 1988 to treat mood disorders Animal studies have shown that fluoxetine may improve post-ischaemic brain injury in many ways that augment neuroplasticity.
The FLAME trial result ignited worldwide interest in the role of fluoxetine. In this double-blind, placebo-controlled, multicentre trial 118 patients with ischaemic stroke were randomised to fluoxetine 20 mg daily or placebo for 3 months. At day 90 the frequency of independent patients [with a modified Rankin scale (mRS) of 0–2] was significantly higher in the fluoxetine group (26 % vs. 9 %, p = 0.015).
Working plan
EFFECTS started 20/10/2014 and we have included 617 subjects at 32 centers in total (16/02/2017). The goal is 1,500 patients at 35 centers. On average, we have included 20 individuals per month. Now we are aiming at 41 patients per month, for making it possible to complete recruitment in October 2019, with the last follow-up one year later.
Recruitment can be followed in realtime here.
EFFECTS collaborate with two other studies – FOCUS (Great Britain), and AFFINITY (Australia and New Zealand). The three trial investigator teams have collaboratively developed a core protocol. Minor variations have been tailored to the national. Each trial is run and funded independently and will report its own results. A prospectively planned individual patient data meta-analysis of all three trials are planned.
Importance
If fluoxetine is safe and effective in promoting functional recovery, it could be rapidly, widely and affordably implemented in routine clinical practice and reduce the burden of disability due to stroke. Furthermore, the cost of 6 months of treatment is low (30 Euro).
---
Eligible subjects
Patients are identified by participating clinicians from acute stroke units and rehabilitation units.
Inclusion criteria
Informed consent can only be obtained from a patient who according to the trial investigator is mentally capable of decision-making and who, after having received information and got answers to their questions, wants to participate in the trial.
Brain imaging is compatible with intra cerebral haemorrhage or ischemic stroke.
Randomization can be performed between 2 and 15 days after stroke onset.
Persisting focal neurological deficit is present at the time of randomization severe enough to warrant treatment from the physicians and the patient's and relative's perspective.
Exclusion criteria
Subarachnoid haemorrhage except where secondary to a primary intracerebral haemorrhage.
Unlikely to be available for follow up for the next 12 months.
Unable to speak Swedish and no close family member available to help with follow-up forms.
Other life threatening illness that will make 12-month survival unlikely.
History of epileptic seizures.
History of allergy or contraindications to fluoxetine including: Hepatic impairment (S-ASAT> 3 upper normal limit) and renal impairment (S-Creatinine levels > 180 micromol/L).
Pregnant or breastfeeding, women of childbearing age not taking contraception. Minimum contraception is an oral contraceptive. A pregnancy test (S-hCG) is to be made prior randomization and after the end of trial medication.
Previous drug overdose or attempted suicide.
Already enrolled into a Clinical Trial of an Investigational Medical Product study. Observational studies are allowed.
Current use of medications which have serious interactions with fluoxetine.
---
Aims
Primary outcome
The primary outcome is functional status, measured with the modified Rankin scale (mRS) at the 6-month follow-up. We are using the simple modified Rankin scale questionnaire delivered by postal questionnaire, or via interview over the telephone or face to face to determine the mRS.
 Secondary outcomes
Survival till the end of the trial, analysed with the Cox proportional hazards model adjusting for the factors included in the minimisation algorithm.
Functional status at 12 months, measured with the simple modified Rankin scale questionnaire, delivered by postal questionnaire, or via interview over the telephone or face to face to determine the mRS.
Health status measured with the Stroke Impact Scale at 6 and 12 months.
The Stroke Impact Scale will provide an overall assessment of patient outcome as well as allowing us to assess the effect of treatment on specific outcomes of importance to the patients. The Stroke Impact Scale was developed with input from both patients and caregivers and includes 8 domains (strength, hand function, ADL/IADL, mobility, communication, emotion, memory and thinking, participation) from across the full impairment-participation continuum. In addition, there is an overall rating of recovery.
Adverse events/Serious Adverse Events
At each follow-up (1 week, 1 month, 3 months, 6 months and 12 months) we will specifically ask for:
a) Recurrent ischaemic and haemorrhagic strokes
b) Acute coronary syndromes
c) Epileptic seizures
d) Episodes of hyponatraemia (<125 mmol/l
e) Upper gastrointestinal bleeding
f) Other major bleeds
g) Poorly controlled diabetes including hyperglycaemia (>22 mmol/l) and hypoglycaemia
h) Falls resulting in injury, and
i) New fractures.
The definition of the Serious Adverse Events is according to Good Clinical Practice. We will not register known side effects of fluoxetine, which are listed in the drug's Summary of Product Characteristics. We will not register known problems following stroke, such as pneumonia, deep vein thrombosis etc.
Depression based on the DSM-IV criteria plus using the Montgomery-Åsberg Depression Rating Scale at 6 and 12 months.
Fatigue. Fatigue will be measured with the vitality subscale of the Health Questionnaire, equivalent to SF 36.
Cognition. We will use the Stroke Impact Scale, which incorporates an assessment of memory and thinking, in conjunction with with the Montreal Cognitive Assessment.
Health-related quality of life, measured with five-level EuroQoL5D.
Cost-effectiveness and cost-utility. Direct and indirect costs will be estimated at 3, 6 and 12 months. Effects will be measured using survival and EuroQoL5D, which will be estimated into a utility score. The effectiveness measure that will be used for comparison purposes, the quality adjusted life years (QALYs), will be estimated by multiplying the relevant time parameter of the comparison with the estimated utility scores. A societal perspective will be adapted for the analysis, and comparison of costs and effects (QALYs) will be conducted for the period of the clinical trial, as well as by adopting a lifetime perspective, where costs and QALYs will be extrapolated beyond the duration of the trial over the expected lifetime of patients. Standard statistical regressions will be used in order to calculate the expected lifetime costs and QALYs.